Dentures & Partials
---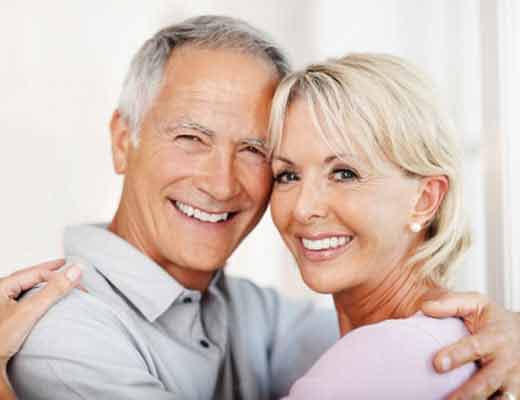 Carlos Rodriguez, DMD, offers dentures and partials in Tucson, AZ. Our dentures and partials are designed with the utmost care to meet your unique needs. When you visit Carlos Rodriguez, DMD, you'll be treated with respect and dignity in a professional and friendly office environment.
What is Meant by Dentures and Partials?
Dentures and partials are a kind of prosthetic. The term partial is short for "denture partial." In other words, a denture replaces all—or most—of the upper or lower teeth, while a partial denture replaces a section of the lower or upper teeth. These are both kinds of dental appliances that restore the appearance of your smile and your ability to eat and speak with ease. Dentures and partials also restore dental health by preventing or minimizing jaw bone degradation in the absence of natural teeth. For those who are missing all their natural teeth in the lower or upper arch, a set of complete dentures can make an enormous difference, while for those with only a few missing teeth, partial dentures can fill the gaps.
What's the Process For Getting Dentures and Partials?
Unlike dental implants or implant-supported dentures, traditional dentures, and partials do not require surgery. The process is complex, but when you work with a quality dentist in Tucson, AZ, you can be sure that the process of getting dentures or partials will be efficient and accurate. At Carlos Rodriguez, DMD, we take pride in our ability to offer high-quality, custom-fitted dentures. The process begins with an initial consultation. This is an opportunity for you to have your questions about dentures and partials answered, and where our team will assess your needs and discuss your options with you. If you wish to proceed, we'll create a detailed map of your mouth using state-of-the-art imaging technology, ensuring that your new dentures or partials will be a good fit.
Dentures or partials can be life-changing, restoring functionality and confidence. And the sooner you're fitted, the better it is for your overall oral health. As one of Tucson's most trusted dentists, we're dedicated to helping you reclaim your smile and dental health. Contact Carlos Rodriguez, DMD, today to schedule your consultation regarding dentures and partials.